Green Bay HVAC Contractor
Installing an Air Conditioning System
Whether your air conditioning system suddenly stops providing the cool comfort it's made for or you just want to upgrade from the window unit to a whole home cooling system, we have you covered. You can rely on our team of highly skilled professionals to complete your installation properly, and in a timely manner.
---
Service and Repairs for your Air Conditioning System
There are many things that can make your air conditioning unit stop from working properly such as accumilation of grime on the condeser coil. These things cause the system to work harder than needed. In turn, wasting energy which costs you money. Leaky coils can cause insufficient refigerant in the system. Other common problems can include a clogged A/C drain or faulty electric controls or sensors. Our team of professionals will use the latest technology and tools to quickly find the problem and take care of it.
Regular Annual Service and Maintenance Visits
One of the easiest and simplest ways of avoiding air conditioning troubles is to have it inspected and maintained every spring. During the inspection we run a series of diagnostic tests, clean the condenser coils, check the refrigerant levels, and inspect the components to make sure they are all working properly and efficiently. By doing this annual service inspection you will help prolong the life of your air conditioning system. This will also improve its efficiency, and ensure it provides you the cool comfort during the hot summer months.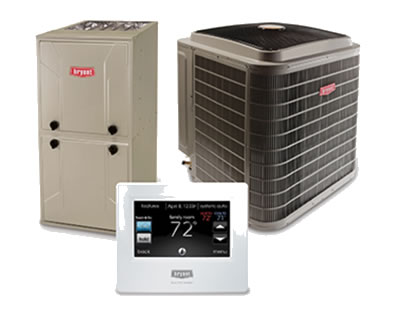 ---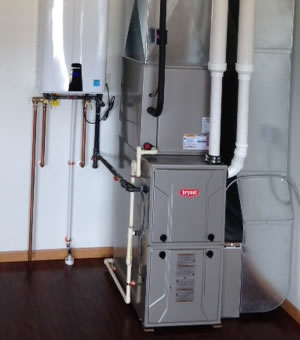 Ductless Mini Split Air Conditioning Systems
In the case of homes and condominiums where space does not allow for a traditional air conditioning system, a ductless mini split air conditioning unit may be the perfect alternative. Ductless mini split air conditioning systems are made of a condenser located outside, and an air handler mounted inside.
Complete A/C Services
A/C systems move heat and humidity from inside to outside. This is the system that uses the most energy in your home. If it is not healthy or running properly then your indoor environment is not healthy, and you are wasting energy. We can ensure that your A/C system is operating properly and efficiently and consistently. We can provide you with the peace of mind knowing that your HVAC system is running properly.
---
Thermostats and Zoning
The thermostat is the control to your entire home comfort system. Our experienced team will work with you to find exactly the right thermostat to fit your individual needs. We can provide you with any thermostat ranging from a basic manual one to an entire high tech home automation system thermostat that can be operated from your smart phone.
Zoning systems use multiple thermostats to control the temperature in only certain areas. Zoning systems can help drastically save on energy consumpation which saves you money.
Air Purification Systems
Some homeowners have additional concerns regarding allergens, pet or smoke odors, mold, fungus, bacteria, and other toxins in the indoor air. We can help by installing the latest models of air purification systems. These filter systems scrub the air as it passes through before it is distributed throughout your home. These systems effectively reduce odors, and germs in your indoor air.
---